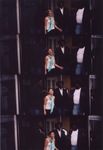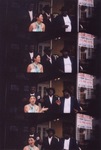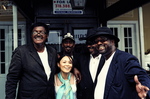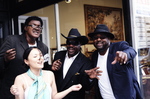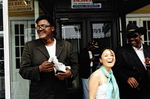 (Those above photoes were by Dan, Thanks a lot, Dan.)
Hello! Good news for you! I am still alive!
I want to write in Japanese but I can't find the font at all. Sony! Oh, not "Sony" but I mean to say "Sorry".
Well, I am in New Orleans. I had a performance with Jay-Ray & Gee A'Cappella Trio on the street (They appears in some movies, I,ve never seen them though). And I sang the GOSPEL music at the African-American Curch on sunday morning as well.
Mississppi river, a steam boat,a smell of coffee, a sound of jazz and so on...I mean typical New Oleans, those things like that impressed on me the 19th and the first decades of the 20th century. Yes, I am very simple. If not so, America IS simple.On the other hand, the race relations are complicated.
I got some acquaintances, they are all musician. Do you know the band "HOT 8"? I am big fan of them in Japan, so I was really happy to talk with them. We met each other on the street. Consequently, I reckon this city is small.
I have a lot of things to let you know but I have to go to work at Tulane University today. I hope to meet you again if I can be out of gunshot all the time fortunately. WA-HA-HA. See you later, but I don't know when "later" is.